Horizons
Released October 21, 2022 on the Analekta label
Christmas
Released November 4, 2021 on the Analekta label
For the holidays, the quintet offers an album embodying all of the festive season's magic. The recording full of good cheer includes classics such as Angels We Have Heard on High and the traditional Silent Night as well as more modern repertoire like Sleigh Ride and The Twelve Days of Christmas.
Press Review

+
PRESS REVIEW
"[…] majestic, elegant and refined arrangements that highlight the holiday season."
WestmountMag, November 2021
"[…] will definitely captivate your dinner guests over the holidays."
Journal Métro, December 2021
"Everyone agrees about this CD that we listen to over and over in our offices. Everything on it is good."
Cite Boomers, December 2021
"Canadian brass quintet Buzz Brass brings an engaging freshness to a programme of standards, all arranged for brass ensemble. Beginning with an imaginative Christmas medley, the disc works its way through Sleigh Ride, Silent Night, Patapan and the 12 Days of Christmas. For this latter and the Noël canadien medley, the group is joined by the vocal quartet Quartom, and it is with this medley of French-Canadian melodies that the disc brings out its Canadian heritage."
Planet Hugill, December 2021
Inspirations
Released September 27, 2019 on the Analekta label
Buzz Brass is returning to its primary essence with this newest opus, Inspirations! Indeed, following the production of two consecutive albums with guest musicians, this recording gives entirely way to the brass quintet. Enjoy!
Press Review

+
PRESS REVIEW
"The Scherzo of Ravel's F major Quartet is jaw droppingly brilliant – a testament to the ensemble's sensational embouchure – and almost convinces that the music was conceived for brass. […] Warmly recommended."
Gramophone (prestigious London magazine devoted to classical music), February, 2020
"Inspirations is an attractive recital with each of four gems in this repertoire being polished to a glittering sparkle. […] All are highly creative re-arrangements; wholly satisfying both structurally and expressively".
WholeNote,  November, 2019
The sound of Buzz Brass is splendid. The musical environment they create radiates with a bright and golden glow […] memorable melodies such as Satie's Gymnopédies and Dvorak's famous American Quartet (originally for strings) find themselves enhanced, almost sharper.
Ici Musique, October 2019
One can't help but fall in deep admiration before the beauty of the Brass Quintet No. 3 in D flat major Op. 7 by composer Victor Ewald (1860-1935). These are the twenty uninterrupted minutes of pure and perfect happiness in this first work of the album!
Les Artszé, September 2019
Preludes & Rhapsodies
Released October 2, 2015 on the Fidelio Music label
Get the album online!
Buzz Brass here tackles accessible and familiar works by means of innovative custom arrangements. Following a variable geometry throughout the program, our brasses blend with one another or interlace with other instruments, generating a rich sound palette. With this in mind, we were keen on collaborating with some of the finest musicians Canada has to offer, leading us to call upon harpist Valérie Milot and pianist Matt Herskowitz.
Press Review

+
PRESS REVIEW
"Truly a lovely idea. Rich and original. Very, very, very well performed. A very good disk!"
Frédéric Lambert, Médium Large program, ICI Radio-Canada, Première [the French-language CBC's Radio One], October 2, 2015
"A pure wonder!"
Murielle Fournier, Le Babillart Quebec cultural e-zine, October 2, 2015
"We're soaring with high-flying winds, with style and intelligence. Impossible to resist. Bravo!"
Christophe Rodriguez, Le Journal de Montréal daily, October 5, 2015
"The result is musically formidable because of the quality of the musicians and the top-level arrangements. It's impeccable!"
Jacques Leclerc, Info-Culture, October 14, 2015
"These five musicians are fearless! With this fourth opus, the Montreal quintet tackles major works and its rendition gives the impression they have been written for its two trombones, two trumpets and horn. A literally transfigured Prelude to 'The Afternoon of a Faun', and […] a few Gershwins […] that will be acquiring a following."
Réjean Beaucage, Montreal's Voir cultural weekly, October 20, 2015
"Amazing. The energetic and convincing performance […] says much about this ensemble's cohesion. The instruments go beyond complementing one another, they achieve the extension of one another to ensure the flow of the discourse."
Richard Boisvert, Quebec-City's Le Soleil daily, November 15, 2015 / Montreal's La Presse daily, November 21, 2015
"Buzz's version of Holst's The Planets (with organ!) was on my Want List in 2012, and so […] this new release […] does not disappoint. In fact, in some ways, it is even more impressive. There's an edginess to Buzz, a constant sense of risk-taking […] that makes this CD one worth returning to many times."
Raymond Tuttle, Fanfare, November 2015
"It's an album that really impresses and that may be savoured in many ways, the power of the brass being gloved in finesse."
Montreal's Entracte performing-arts magazine, Oct.-Nov.-Dec. 2015
"I must admit having much delighted in these 'Preludes and Rhapsodies', very pleasing and sounding like a charm."
Pierre Dallaire, Magazine Son & Image, Jan.-Feb. 2016
Holst - The Planets
Released October 3, 2009 on the Fidelio Music label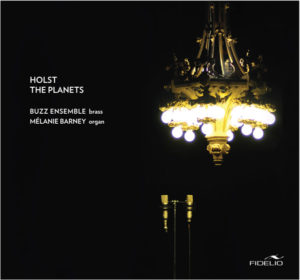 Get the album online!
Buzz Brass here joins forces with the talented organist Mélanie Barney to create a stunningly orchestral concert that appeals equally to fans of Holst and those of music for brass and organ. This recording has become a reference album, both for audiophiles and music lovers, thanks to the exceptional quality of the recording and a stunning interpretation.
DISTINCTION
Nominee—ADISQ 2010
Album of the Year—Classical—Solo and Small Ensemble
Press Review

+
Press review
"A great album."
Le Journal de Montréal daily, September 26, 2009
"A version for brass quintet and organ is food for thought. But the result is there. Impeccable recording."
Montreal's Voir cultural weekly, September 24, 2009
"One of the best organ recordings I have yet had the privilege to hear, a reference in the genre."
Magazine Audio e-zine, September 24, 2009
"Superb. A must!"
La Scena Musicale cultural monthly, October 2009
"One of this year's best gems."
Le Journal de Montréal daily, December 24, 2009
"Superb, highly recommended!"
Mixtures – The newsletter of the Quebec Federation of Friends of the Organ, May 2010
"A strikingly rich and dramatic new recording, sounded magnificent."
Stereophile magazine (USA), May 2010
"A valid new look at The Planets. The music's emotional impact is intact. There is both skill and imagination here, and in abundance. Brilliant, exciting, yet always controlled playing. The brass players all get gold stars, as does organist Mélanie Barney. You need to hear this recording."
Fanfare magazine (USA), July 2012
"The adaptation is darn good. The majestic and weighty movements come off with commanding power and intensity, and the minatory and mysterious outer planets are pretty cool, too. How can you resist?"
The Absolute Sound magazine (USA), September 2012